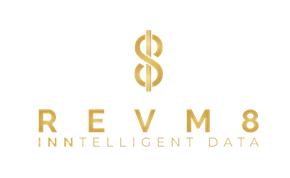 Powerful Data At Your Fingertips
RevM8 is your personal revenue partner that alerts you to only the critical dates and information you need to focus on.
"We receive daily alerts via email and WhatsApp which allows us to quickly react to market changes. This means we are not leaving money on the table at any time."
Jeremy,
Westshore Beach Inn
"We find the Revm8 team to simply be an extension of our own team and we always have them in our corner. The fully managed revenue management service that we have opted for with Revm8/Rateing means that we always have someone doing the number crunching and revenue optimization for us when we have our hands full"
"RevM8 has given us the insights to move on opportunity dates and remain competitive, which has in turn increased RevPAR and in turn our overall profits."
Pankaj ,
U Boutique Hotel Wellington
IT'S TIME TO INNOV8
GREAT FEATURES ARE ONLY THE START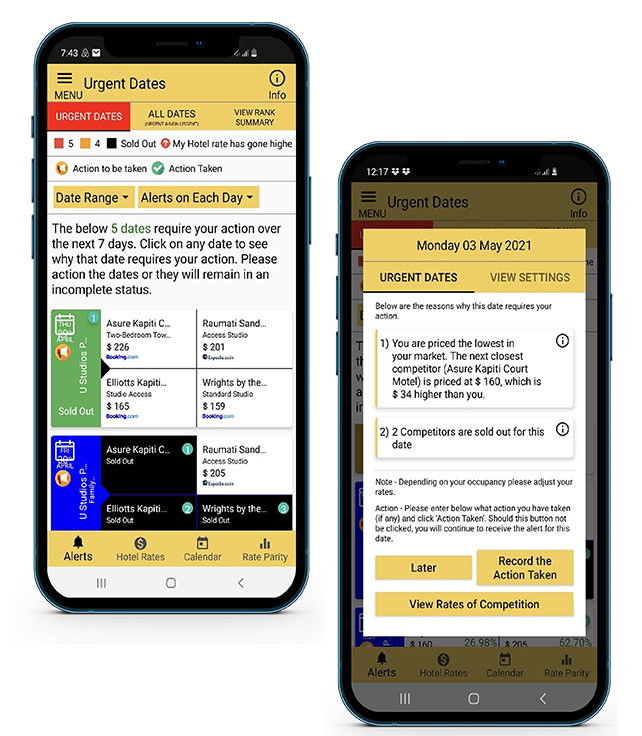 ACTIONABLE ALERTS
RevM8 will alert you every day to any opportunity dates that requires your action. It will analyse your competition's rates vs your rates over a 7 day or 30 day period and alert you to fluctuations that you may not be aware of.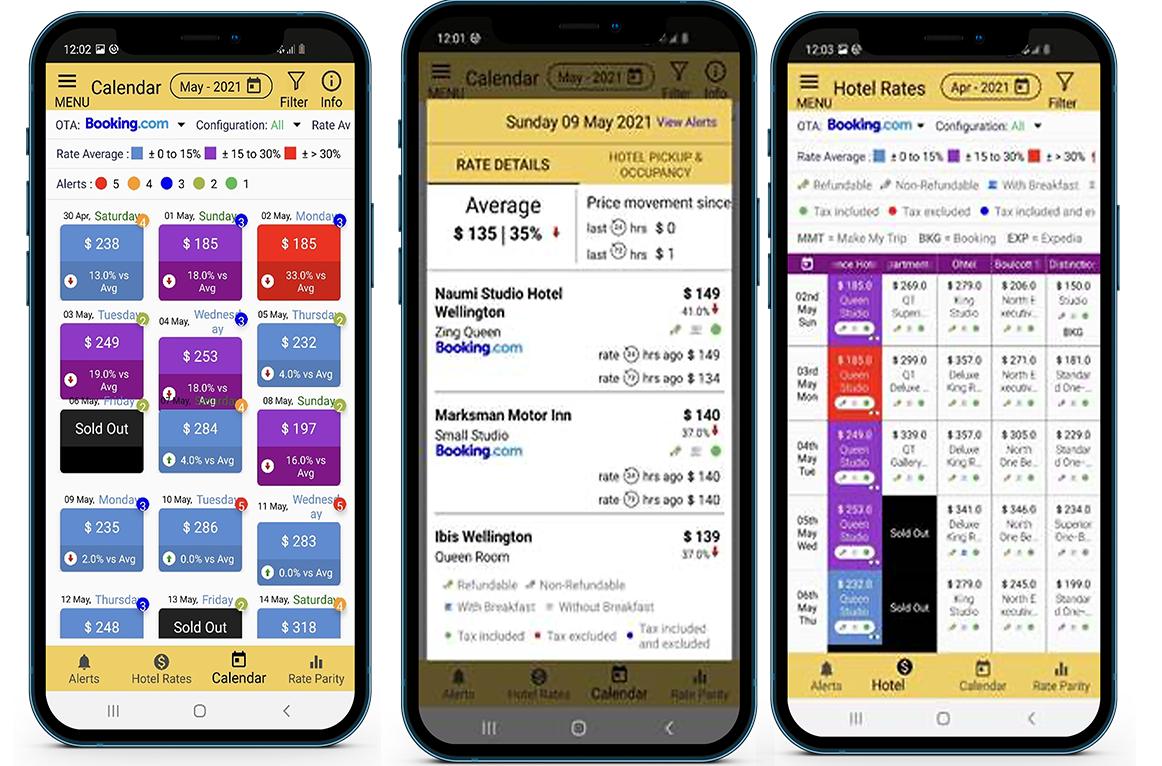 INTERACTIVE CALENDAR
This calendar will quickly alert you to dates you are +/- 0 – 30% against your competition on the main OTA sites. Just touch on a particular date and you will see the rates of all your competitors and you on any OTA site.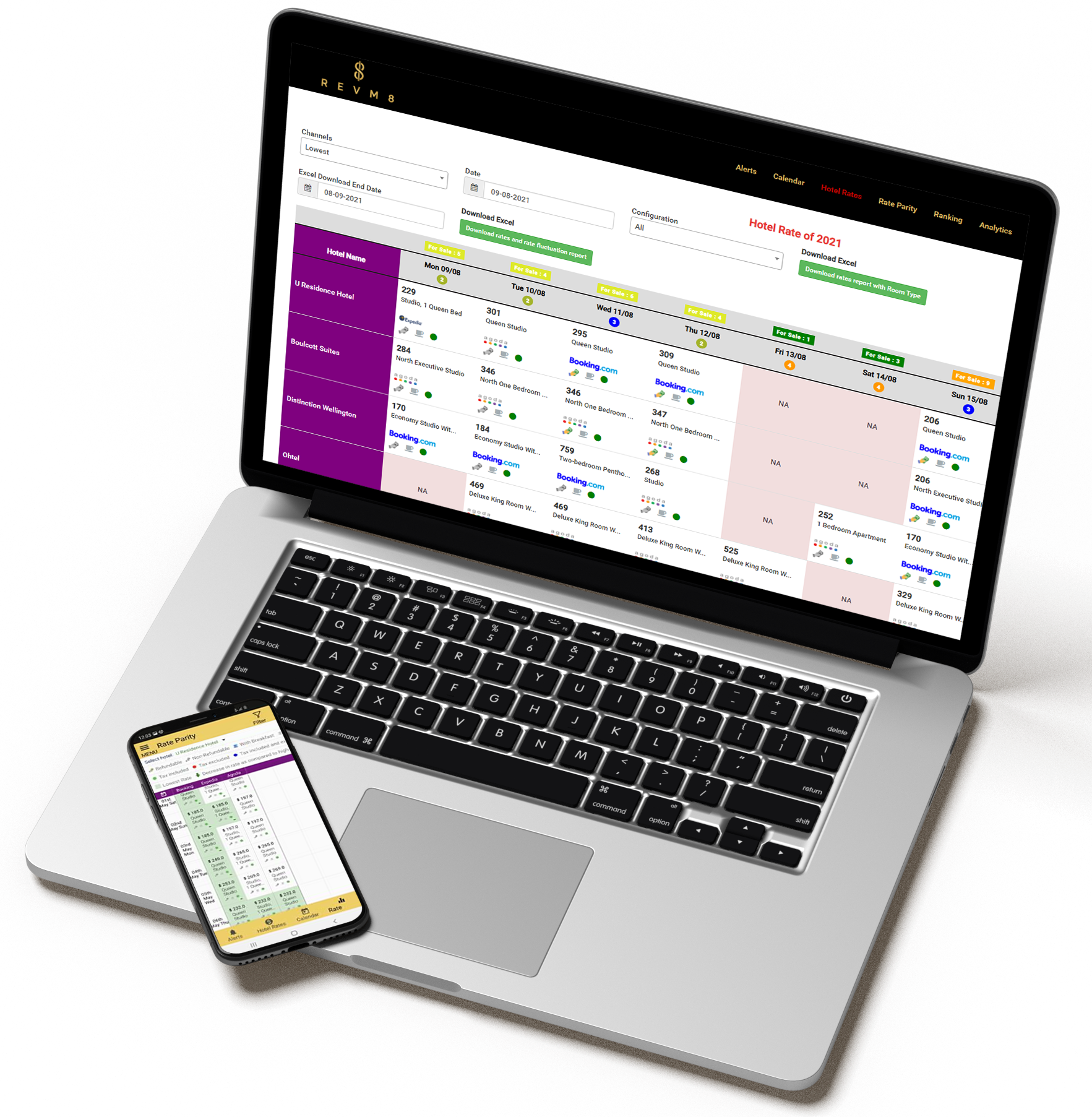 RATE PARITY
Ever wondered why your rates show differently on the various OTA sites? Well now you can quickly check to see if rates are in parity over each OTA site. OTAs can at times place periodic sales or coupons on your property without letting you know, which could dilute your direct rates considerably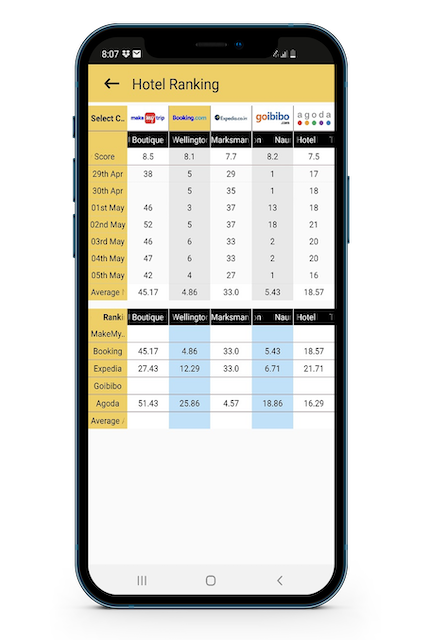 HOTEL RANKING ON OTA SITES + ANALYTICS
Now you can see your overall review score vs you competitors on each OTA site and your page ranking on each site per day. Guests are more likely to book a property on page 1 or page 2 on that particular OTA site and you could be missing out on bookings based on your position ranking on that particular website. Improving your content score and could change this immediately and RevM8 will help you be on top of your competitors every time.
The RevM8 Advantage
Automatically check your rate and competitor's rates across multiple OTA's, room types, rate plans, multiple times a day.
Receive automated alerts when your competitors are sold out or make sudden price changes so that you can maximize on those opportunities.
Identify which Online websites are using promo codes and undercutting your rate and by how much. This saves you thousands in commissions.
Track your Ranking on all OTA's for future dates to ensure you have good visibility on the OTA's.
It's Time To Innov8
You might be interested in the following
At Innov8 we have the the right tools and a great team of experts to support your business to drive your profit and long term success.